For someone who runs a lot in bad weather, I've bought very few running jackets since I started back in 2009. But once I started running trails, I had to up my game. They can be summarised as:
2009-2017 Various cheap generic windcheaters
2017 - Decathlon heavy running jacket. Not very breathable. Still use it.
2018 - The classic Ronhill Infinity Torrent Running Jacket with the chest pocket square. Still great.
2018 - Columbia OutDry Extreme. The original heavy one. Completely waterproof but too bulky.
2020 - Inov-8 Ultrashell Waterproof Jacket. Extremely light. Doesn't breathe. Barely waterproof. Stitching unravelled.
2021 - The North Face Flight Futurelight Jacket. Stupid money. Breathable. Completely useless in rain.
After the disaster of the Futurelight, I was on a mission to find something that was waterproof in Irish weather, light and somewhat breathable. Generally that means you're into the world of high-end Goretex with one exception - Columbia. I've always like the OutDry concept where the membrane is on the outside, so it never wets out, unlike most water resistant/proof jackets. But the older ones were a bit too much like heavy oilskins.
I read some good things about the newer OutDry Mesh design but the price was eye-watering - €250. So I held off and kept checking various sites for discounts. Finally SportFits in Germany had it for a good bit under €200 and I jumped at it. I would much prefer < €150, but if I get as many years as I have with the Ron Hill, I won't mind too much. Note that the price changes all the time on these sites so be patient. Unfortunately Columbia never seems to include it in their sales.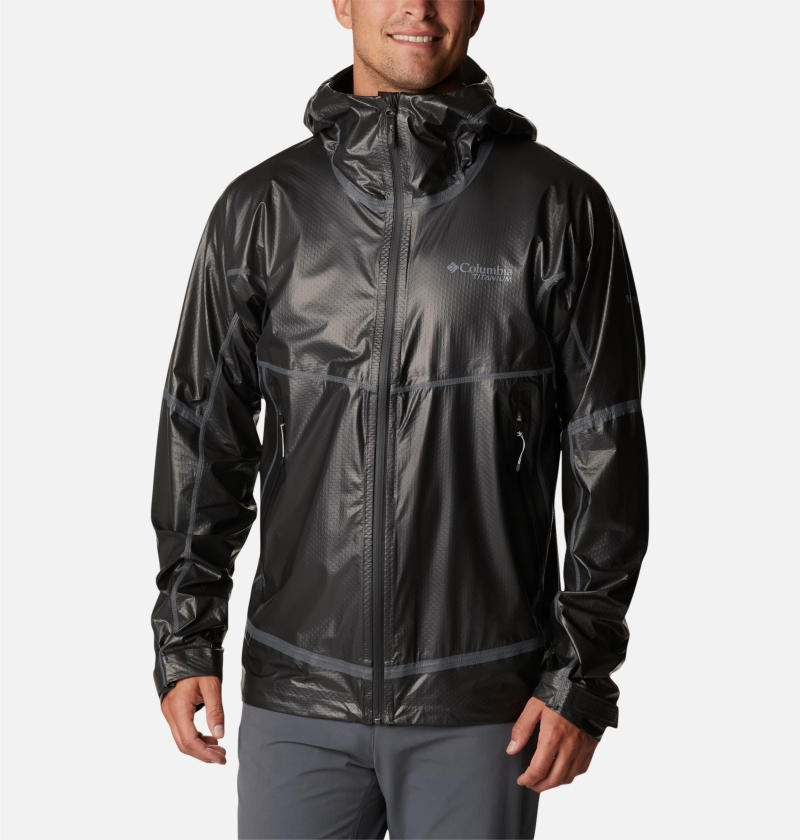 I've worn it on several short to medium runs in rain and one 27 miler where it rained non-stop for several hours on exposed hills. In every case, I was bone-dry underneath. Everything after that is a bonus. It does the one thing I need - it will keep me dry if the going gets rough on the Kerry Way Ultra in September.
Apart from that key result, I'm happy with every other aspect of the jacket:
Surprisingly light but not as light as the usual thin Inov-8/Salomon/etc
Bundles up pretty small
Nice soft inner lining
Rain just beads on the outside and then runs off
Not very breathable but no worse than most
Good pockets (unlike the idiotic TNF one)
Good tight hood adjustment (unlike the old one)
Soft material at mouth
Velcro straps on wrists (again unlike the idiotic TNF one)
It generally fits true to size and you'll have enough space underneath for a few base/mid layers or one heavy one.
I'm just thrilled I finally found something that ticks all of my boxes for the bad days.
If your budget can stretch to it, just get it.
---
comments powered by

Disqus