We recently discovered this shop as it seems to be the only one in a few hundred miles of Bandon that sells Sodastream gas refills. Catherine popped down a few weeks ago to get two refills and raved about the place. I drove down yesterday to have a look and get some of the Sodastream flavours.
They are just at the top of town on the main street, impossible to miss. I went in with 4 of our monsters so couldn't spend as much time as I'd like. Suffice to say, if you like cookware or kitchenware, you'll adore this shop. It is jammed with tons and tons of everything you could possibly need in a kitchen. In just a few minutes I got my Sodastream flavours (highly recommend that you start using this 1970s classic again to save yourself a fortune. Also less damaging to the environment!), spatula, pouring nozzles for oil, bun cases and oven thermometer. The owners were extremely friendly and helpful too.
The highlight for us all was this coffee maker. Slightly out of our budget but a wonderful design.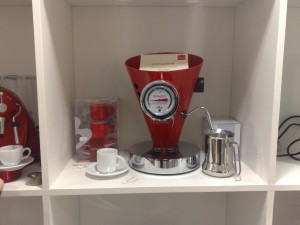 The Cookware Company is worth a drive no matter where you are in Cork.