If you haven't heard about it already, you'll want to know about the Good Wine Show happening this Friday 13th and Saturday 14th of November. It's a joint effort between the three best independent wine retailers in the country: Curious Wines, Bubble Brothers and Karwig Wines.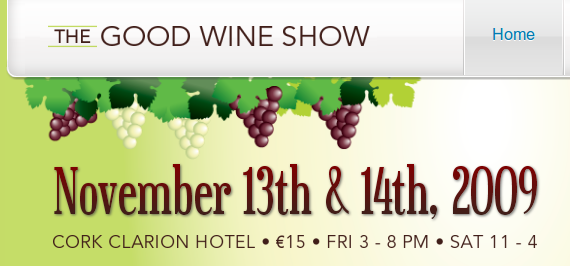 It's on in the Clarion Hotel in Cork from 3pm - 8pm on Friday and 11am - 4pm on Saturday and only costs €15. For that you'll have over 100 international wines to taste and buy, delicious foods and gourmet treats on offer and prize draws for wine cases and food hampers.
This isn't a show for wine gurus at all. If you like a nice glass of NZ Sauvignon Blanc every once in a while, you'll enjoy it just as much as those who know the difference between a 1947 and 1948 Margaux.
You can buy tickets online right now or in any of the aforementioned Wine Merchants. We'll be there on Friday and possibly on Saturday too, soliciting your feedback on everything so have your SMS thumbs to the ready.