The second year of the Engage Arts festival is fast approaching and it looks fantastic. Something for everyone, no matter what their interests or age.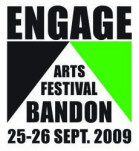 I've put together a simple mini-blog for the event over here on Posterous. The aim is that people can upload information, pictures, videos etc very easily over the weekend.It has the full line-up for the two days and contact details too.
It'd be fantastic if you'd take part in this exercise. It's as simple as emailing me on cwjoneill AT gmail DOT com. I then add you as an author on the blog and all you have to do is email text, pictures, videos, links etc to post@posterous.com and they will automatically appear! Yup, that easy. You can even do it from many phones.
So c'mon, Engage is about engaging with the arts and what better way to do that than to submit your experiences of the weekend and all the events by sending a wee email. If even that freaks you out as a technophobe, then just send the stuff to me and I'll upload it for you.
Any questions, just leave em in the comments.